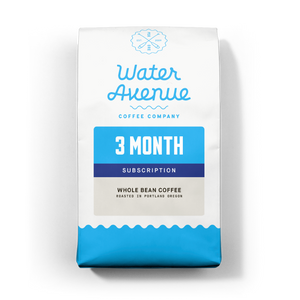 A thoughtful gift for the coffee enthusiast in your life. Give the gift of freshly roasted coffee delivered directly to their doorstep when they need it most! 
Your giftee will receive one 12oz bag carefully selected from our Coffee Adventure Collection, a vibrant mix of high-quality single-origins, limited-time offerings, and blends in every delivery. They will receive a total of three (3) shipments, one each month for three months. 
All The Details: 
Purchase a gift subscription today, and your giftee will get a delicious bag of Water Avenue coffee each month.

The subscription becomes active at purchase. Once you've placed the order our production team receives the request to roast and fulfill. If you would like the order to be shipped around

 

a specific time, please place the order 7-10 days prior. 

Throughout the subscription, the giftee will receive a wide variety of our very best coffees.

Enter your giftee's address as the delivery address, and we'll ship directly to them.

The subscription price includes shipping with no extra fees – we promise!

Once all the deliveries are completed, the gift subscription will end, and you will not be charged again.

Gift subscriptions cannot be canceled or refunded. Please contact us if you need to update any details or have other questions regarding your gift subscription.